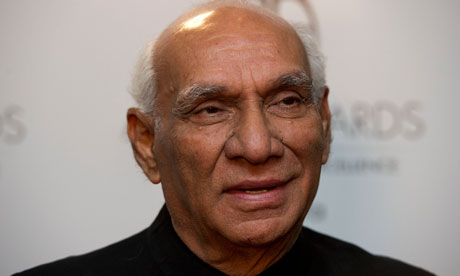 The veteran Bollywood director, Yash Chopra, passed away this week at the age of 80. His death came just weeks before his much anticipated new release, Jab Tak Hai Jaan (2012) was due to hit the big screen. Yash Chopra may have been one of the greatest filmmakers in the history of Indian cinema, yet he will always be remembered as his country's king of celluloid romance.
During a career of 53 years he launched some of Indian cinema's most iconic and commercially successful films. Smash hits such as Waqt (1965), Kabhi Kabhie (1976), Silsila (1981), Lamhe (1991) and Veer-Zaara (2004) captured the essence of Yash Chopra's sensibility – a highly-stylised presentation of the emotional dilemmas of the super-rich. If Yash Chopra's heroes were handsome fighter pilots or brooding poets, then his heroines were magnificently groomed in their chiffon saris. And when love was declared, usually in a song and dance sequence, it was done in a suitably scenic setting - amid the snow-capped Swiss Alps, in the tulip fields of Holland or on the rolling hills of the Lake District.
Chopra recognised the sense of excitement, escapism, adventure and aspiration that an exotic location could bring to a film, particularly one with romance at its heart, and so exotic backdrops quickly became his trademark.
Historically in Indian films, it was the mountainous region of Kashmir, widely regarded as 'heaven on earth' which represented idyllic surroundings for falling in love. Kashmir's scenery and landscape became so popular that lakes, trees and mountains became synonymous with romance in Bollywood. But when the terrorism threats of the late 1980s made the region difficult and then inaccessible, Yash Chopra began the trend of seeking substitutes overseas.
Consequently, Bollywood today plays a leading role in introducing alluring overseas destinations to India, currently the fastest-growing outbound tourist market in the world. Getting your country featured in the latest Bollywood blockbuster is as good as it gets when it comes to product placement. No wonder then that Bollywood personalities are courted by tourism agencies worldwide. Yash Chopra for instance, singlehandedly boosted tourism in Switzerland by regularly featuring the country's lakes, misty valleys and snow-capped mountains as the backdrop for his song and dance sequences. So grateful were the Swiss Tourism Authority that they named a lake after him.
The director also played a part in promoting Britain as a glamorous destination. His classic film Lamhe (1991) was shot in London and the Lake District. When he produced Mujhse Dosti Karoge a decade later, Chopra again returned to Ullswater to film aboard one of the steamers which ply between Glen Ridding and Pooley Bridge, reveling in the twisting lake, rolling fells and narrow, winding roads of the national park.
Yash Chopra's unique visual aesthetic has also influenced an entire generation of film makers. The 1995 film, Dilwale Dulhania Le Jayenge (which Chopra produced), not only marked his son Aditya's directorial debut, but it went on to become Indian cinema's longest-running blockbuster. Not only did the film feature some of London's best known tourist spots, but it was also one of the first to feature British Asians in its storyline – non-resident Indians (NRIs) as they're known in Bollywood terms.
One of Bollywood's hottest directors, Karan Johar, who is a goodwill ambassador for VisitBritain's four-year global 'Britain You're Invited' campaign, also cites Yash Chopra as a major influence. Although his recent films have been set in America, Johar's first two releases were extensively shot in Britain. To capitalise on this, VisitBritain, the national tourism agency responsible for marketing Britain overseas, published a Bollywood Movie Map, to encourage Indian fans to visit these British locations popularised in their favourite films. The map highlighted old and recent Bollywood productions and included Karan Johar's 1998 film, Kuch Kuch Hota Hai, whose title track alone was filmed at Glencoe, Ross Priory and Loch Lomond in Scotland. The list of British locations in his second release, Kabhi Khushie Kabhie Gham (2001) was even more exclusive – one song alone features King's College, Cambridge, Blenheim Palace, Cardiff's Millennium Stadium and the British Museum's Great Court.
Chopra remained faithful to his favourite British locations until the very end. The video for one of the songs for his final film, Jab Tak Hai Jaan (due out on 13 November, to coincide with Diwali) features one of the most extravagant displays of London's tourist destinations ever witnessed in a Bollywood film.
This article first appeared HERE.